Finding an employment in BiH nowadays is quite a challenge. The country is still facing certain consequences of past war as well as difficult transition process. This discouraging situation when BiH youth are not adequately prepared by their schools and institutions to enter the more demanding labour force makes them to think about other, better possibilities abroad. This situation represents a real threat of "brain drain" from the country
Comparing to period 1992-1995, when migration was caused by war conflict and basic preservation of life, today we are facing various reasons, mostly those of economic nature. Compared to yesterday's migrants, this current wave is more educated, qualified, urban, and young. The Government's experience with the management of migration of its nationals is limited. YERP aims to address high youth unemployment rate and the lack of youth migration data collection mechanism in BiH.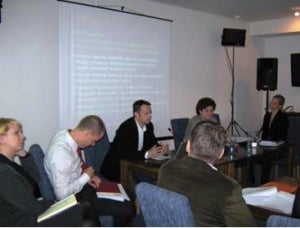 The Inception Workshop was a success, gathering some 50 participants from whom some 15 persons were present at discussion related to achieving part of the 3rd YERP component which pertains to UNFPA's support to increasing of capacities of Statistical Agencies to gather, process, interpret and disseminate sex and age, boys and girls disaggregated data on youth migration as well as capacities of BiH Institutions such to manage, follow up and coordinate youth migration.
"The inception workshop was a great opportunity for productive discussion, on both operational and strategic elements, because all key future partners for all three programme components were together at the same time. So, everybody understood purpose and scope of YERP programme and in that way their contribution in future will be even more significant", as Erol Mujanovic YERP National programme manager and coordinator said.
All participants agreed on future steps, widening the group with new valuable stakeholders and emphasizing holistic approach of 5 UN Agencies.