Born from a unique gathering of leaders from media, corporations, NGOs, universities, and grassroots organizations, 7 Billion Actions is a global movement open to every organization and individual committed to addressing the most challenging issues of our time.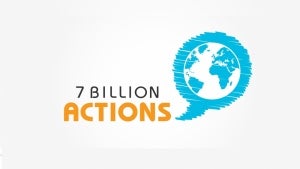 Later this year, the world's population will reach 7 billion. We are each an equal part of this coming milestone. Every one of us has a unique role and an inherent calling to help one another and to make the world a better place. Every organization has a responsibility to help solve the problems larger than any one person can tackle alone.
This bold, collaborative movement will showcase the stories and actions of people throughout communities around the world using an array of online, SMS, and offline activities. Tremendous breakthroughs are happening in boardrooms, labs, kitchens, and communities all over the globe. Actions and innovations that have the potential to change our world gain power as they are shared and replicated.
This is why a growing number of global, regional and national partners are coming together to participate in this monumental initiative. And for us to succeed, we want your help. Connect your organization's vision and expertise to this global conversation by becoming one of our partners today.
Billion Actions, a global movement for all humanity.
7 Billion is a challenge.
Today, the most pressing human concerns are the transnational issues we share across race, religion and nationality. As more and more people join those of us already here, new challenges will arise and solving existing challenges will become increasingly more urgent.
7 Billion is an opportunity.
There are problems that can, and must, be solved. As individuals, we play a key role in creating a sustainable world characterized by balance and peace for all. We are part of a big, interconnected community where actions taken in one country or region can have an immediate impact on the other parts of the globe. We have new and unprecedented capacity, individually and collectively, to access and evaluate information, make connections and pursue ideas, and connect and engage communities to solve problems as never before.
7 Billion is a call to action.
There are a lot of different problems being caused by an ever-increasing number of people in a finite-sized world. Many of these problems can be addressed, and new solutions will emerge over time. Reducing inequities and finding ways to ensure the well-being of people alive today – as well as the generations that follow – will require new ways of thinking and unprecedented global cooperation. The moment to act is now.
In a world of 7 Billion people, we are all in this together and are counting on each other. Working together, incremental actions will create exponential results.
For more information please visit 7 Billion Actions web site.