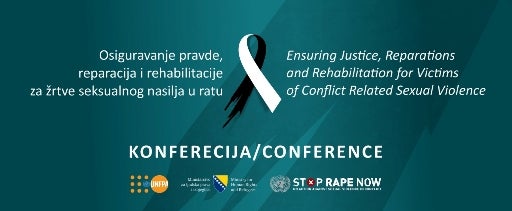 UNFPA, in cooperation with the Ministry of Human Rights and Refugees BiH, is hosting a conference Ensuring Justice, Reparations and Rehabilitation for Survivors of conflict related sexual violence Sexual Violence on the 5-6 September 2012.
The conference seeks to initiate a regional network for advocacy, review the activities implemented by all key actors in the region and reinforce accountability among them, and identify necessary steps for improvement of the status of victims of conflict related sexual violence.
The conference will feature plenary sessions, group and panel discussions. Among the key speakers will be Ms. Madeleine Rees, General Secretary of Women's International League for Peace and Freedom who will talk about understanding of and responding to conflict related sexual violence.
The conference will also be addressed by Ms. Rashida Manjoo, Special Rapportour on Violence against Women, its Causes and Consequences, who will talk about reparations from women's perspective.
A panel discussion on fight against impunity will also take place, with panelist from prosecutors' offices around the region.
CONFERENCE REPORT: Ensuring Justice, Reparations and Rehabilitation for Victims of Conflict Related Sexual Violence