UNFPA: Delivering a world where every pregnancy is wanted,
every childbirth is safe and every young person's potential fulfilled.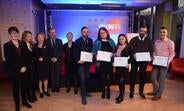 9 December 2016
International Human Rights Day 'Stand up for someone's rights!'
SARAJEVO, 9 December 2016 – The UN General Assembly proclaimed 10th of December as Human Rights Day in 1950, to draw attention to the Universal Declaration of Human Rights as the common standard of achievement for all peoples and all nations.
Centers for Healthy Aging in Bosnia and Herzegovina
Može li planiranje porodice doprinijeti rastu stanovništva u zemljama niskog fertiliteta?
Centri za zdravo starenje u BiH
Ending violence against women & girls