UNFPA: Delivering a world where every pregnancy is wanted,
every childbirth is safe and every young person's potential fulfilled.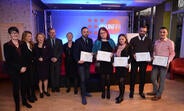 9 December 2016
International Human Rights Day 'Stand up for someone's rights!'
SARAJEVO, 9 December 2016 – The UN General Assembly proclaimed 10th of December as Human Rights Day in 1950, to draw attention to the Universal Declaration of Human Rights as the common standard of achievement for all peoples and all nations. UNFPA works to empower individuals and communities to claim their rights through
20 October 2016
UNFPA State of World Population 2016
Investing in 10-year-old girls could yield huge demographic dividend, boost national economies • Girls are generally well educated in the Eastern Europe and Central Asia region • But early marriage, teenage pregnancy and traditional gender roles risk squandering this enormous human capital. • Unlocking the potential of this
Centers for Healthy Aging in Bosnia and Herzegovina
Može li planiranje porodice doprinijeti rastu stanovništva u zemljama niskog fertiliteta?
Centri za zdravo starenje u BiH
Ending violence against women & girls