You are here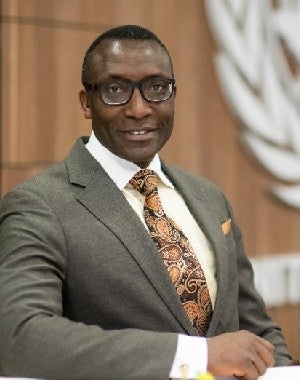 John Kennedy Mosoti
John Kennedy Mosoti, is the UNFPA Representative for Bosnia and Herzegovina, Country Director for Serbia and the Republic of North Macedonia, and Director for Kosovo (UNSCR 1244). He is a national of Kenya. He holds Bachelor of Laws degree, Post-Graduate Diploma in Law, a Master's Degree in Criminal Justice and Diploma in International Environmental Law.
John is an established diplomat, having served as Senior Adviser for Human Rights, Social and Humanitarian issues at the Permanent Mission of Kenya to the United Nations from 2004 to 2013. He was also charged with the work relating to the functional commissions of the Economic and Social Council (ECOSOC), the Executive Boards of UNDP/UNFPA/UNOPS, UNICEF and UN Women. He also specialized in Peace and Security issues, particularly in the Great Lakes region of Africa and on UN Reform. John represented his country and region in numerous negotiations of the major UN conferences and meetings. John served two years in the Partnership Division of UNICEF as Public Partnership Adviser between 2013 and 2015. 
John brings with him twenty five years' experience in the private sector, civil society, the United Nations as well as government. As the Chief of the Multilateral Affairs Branch at UNFPA, John managed UNFPA's political interaction with Member States in the General Assembly, Security Council, ECOSOC and its functional commissions as well as the UN secretariat. He later became the Chief of the Inter-governmental, Inter-agency and Policy Dialogue Branch. Most recently, he was appointed and served as Deputy Global Coordinator on ICPD 25 charged with the organization of the Nairobi Summit: Accelerating the Promise.
John speaks Swahili, English, French and Arabic. He is married and has three daughters.